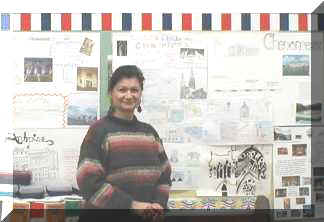 Jacqueline Satterlee
Jacqueline C. Satterlee teaches French at Horseheads High School, but has taken several art courses at Elmira College, with the Elmira Art Club and classes with Mr. Larry Barone and Mrs. Cynthia Cratsley-Harrington at Horseheads High School. She even won a second place in an Arnot Art Museum competition in 1976. She intends to devote full- time to painting when she retires next year.
A French teacher's passion for painting is not surprising, given that the French culture has such a rich artistic heritage. In fact, when asked what she likes best about teaching, Jackie says that she
"gets to teach about art and architecture and incorporate them in the French curriculum. Visiting cathedrals, museums, theaters and operas, as well as doing hands on projects in the class room, are an integral part of learning a language."
For Jackie, art education is important because it:

"introduces students to all types of new ideas and possibilities accomplished in the past and upon which they can build. When possible we take field trips, like the ones organized by our Ace program, or those organized by teachers individually. Besides taking foreign trips, we are fortunate to have access to a lot of cultural events and museums in our own area."
SCT BOCES
Congratulates
Jacqueline C. Satterlee
In addition to her artwork and teaching French, Jackie is also proficient on the computer.

"I help artist friends set up websites with their art, and I have one of my own. I started the site Artquizz with the artist CZA to make learning about art fun as well as a tool for teachers. My students also participate in making some of the questions and pages, thus learning to do research on the internet, as well as building web pages."
Check out the web-addresses below. They will also become permanent links on the Arts in Education Resources and Links page.
http://artquizz.free.fr (art site)
http://www.geocities.com/jcsatterlee
(French Culture)
http://www.geocities.com/jcsatterlee2
(Personal art & family )
Thank you Jackie, for appreciating the myriad ways the arts educate and enrich us all!
SCT Boces Home Page http://www.sctboces.org/